You can access the OxBlue Interface from your web browser or through our app.
Logging In
In your browser, go to app.oxblue.com/login or access the login page through the OxBlue website.
Enter your credentials and either click Log In or choose one of the services listed below.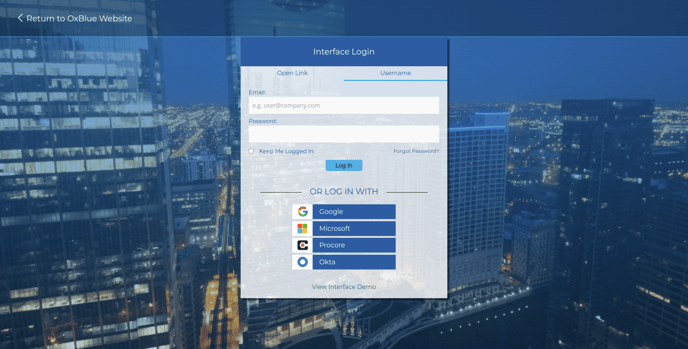 If you've forgotten your password, click Forgot Password? and follow the directions.
Note: Don't share login credentials with anyone. As an OxBlue client, you can add an unlimited number of users to your camera. For more information, contact your client support manager.
Click Keep Me Logged In to be automatically logged in from now on.
Note: If you clear your browser cache or delete the OxBlue cookie, you will have to log in again — even when the box was checked.
Logging Out
Click on your email address in the upper right corner and then click Logout