First, log into the OxBlue interface with your username and password.
Note: Live stream only works with Sapphire Series cameras. If you are interested in streaming your job site, talk to your client support manager.

In the camera interface, select the camcorder icon.

Wait for 10 to 15 seconds for the live stream to begin.

Look for the flashing LIVE icon to confirm the project is streaming.

In the top right corner, there are three menu options.

The double arrow icon will enter the interface into full-screen mode. The camera icon will take a screenshot from the live video. The X icon will close the live stream.
If your Sapphire Series camera has pan-tilt-zoom (PTZ), an additional viewfinder menu will be available at the bottom of the interface.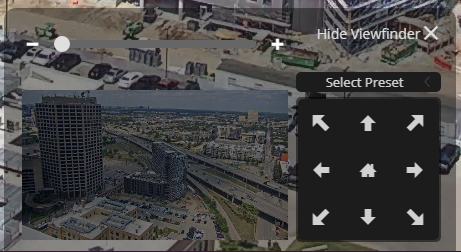 The omnidirectional arrows will move the video image, and the home button will return the camera to the default position. To zoom in and out, click the plus + and minus - icons.