Analyze site safety compliance
How do I monitor safety risks on my project?
Safety Analysis takes the humans identified in the images and analyzes whether they are wearing safety equipment to determine directionally what level of compliance is present at the site.
Note: Safety tracking must be turned on for individual users by admins. If you are an admin, learn more in this article.
The safety analytics dashboard is found by clicking AI Analytics at the top of the interface.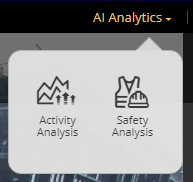 Click Safety Analysis and the dashboard will pop up.
Users can use the top chart to view safety usage for all projects.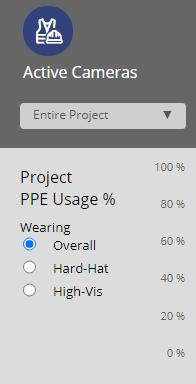 The second chart displays safety usage for a specific project.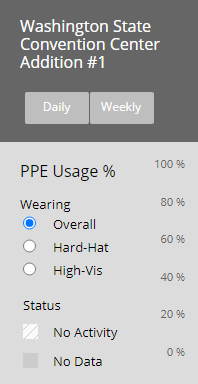 Note: Insufficient Data Signage and No Activity Stripes will display where data couldn't be properly analyzed due to distance/angle of the camera, lower camera resolution, and or a limited number of images analyzed.
The bottom shows thumbnails of highlighted safety violations.