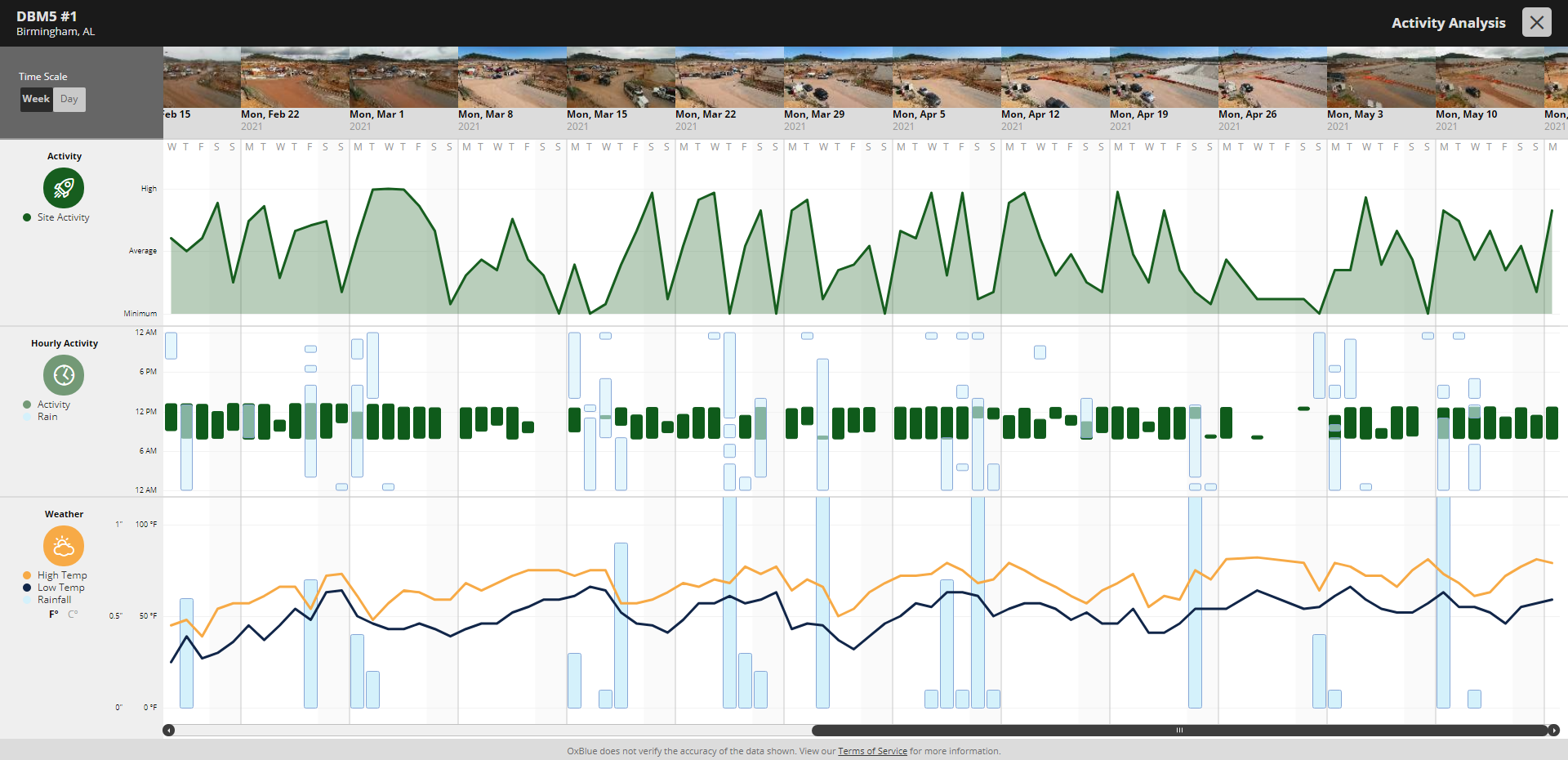 The OxBlue AI Activity Analysis feature analyzes successive site images to identify the number of people and moving equipment. It can recognize people and nearly 30 types of construction machinery and equipment and provide an accurate timeline of activity levels on site.
Note: In order to access the AI dashboard, you must have activity analysis turned on. To do so, contact your client support manager.
You can also restrict the camera analysis area so the data is not influenced by nearby activity (i.e., vehicular traffic on a road adjacent to the site).
To view the Activity Analysis, click AI Analytics in the top-right menu and select Activity Analysis. The appropriate AI Activity Analysis window will be displayed.
To close the AI Activity Analysis window, click the X in the upper right corner.
Dashboard
The data is divided into four horizontal sections:
Time Scale - Display either weekly or daily data. An image from each time period is displayed above.
Activity - The level (High, Average or Minimum) of hourly activity for the
given week or day is displayed here. Activity tracks the movement of people,
machines and vehicles on the site. The scale is relative to recorded historical
data. High means the highest recorded and varies from time period to time
period, so High one week is not necessarily the same as it is in another week.
Hourly Activity - The dark bars indicate the hours worked according to the
hourly scale on the left.
Weather - The colorful lines indicate temperature fluctuations over time while the height of the blue bars indicates the amount of precipitation in each period.
Skimming
If you want to see daily data at a glance, drag the cursor (skim) across the dashboard.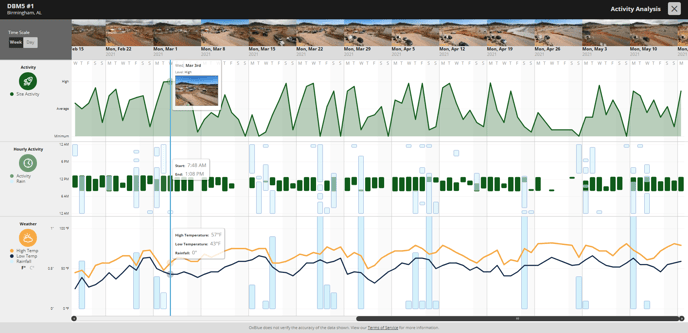 As you drag to the right or left, you will see the data for other days in the middle of the week.
Configuring AI Activity Analysis
Note: Only admin-level users can adjust AI settings.
To configure AI Activity Analysis, select AI Analysis from the Admin menu.